mor_175556_quercus_potosina_trel..jpg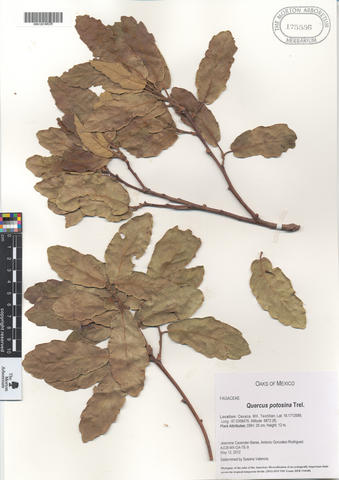 Description:
Oaks of Mexico
FAGACEAE
Quercus potosina Trel.
Location: Oaxaca, MX. Teotitlan; Lat: 18.1712689,
Long: -97.0358476. Altitude: 6872 (ft).
Plant Attributes: DBH: 25 cm; Height: 12 m.
Jeannine Cavender-Bares, Antonio Gonzalez-Rodriguez
#JCB-MX-OA-TE-9
May 12, 2012
Determined by Susana Valencia.
Phylogeny of the oaks of the Americas: Diversification of an ecologically important clade across the tropical-temperate divide. (2012-2015 NSF Grant, DEB 114648)
Photographer: Albrecht, William. Publisher: Albrecht, William.