mor_175400_quercus_shumardii_buckley.jpg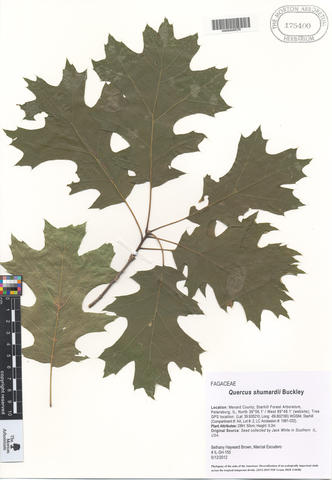 Description:
FAGACEAE
Quercus shumardii Buckley
Location: Menard County; Starhill Forest Arboretum, Petersburg, IL; North 39°56.1' / West 89°48.1' (website); Tree GPS location: (Lat: 39.935210, Long: -89.802180) WGS84; Starhill (Compartment #: AA, Lot #: 2, LC Accession #: 1981-032).
Plant Attributes: DBH: 50cm; Height: 9.2m
Original Source: Seed collected by Jack White in Southern IL, USA.
Bethany Hayward Brown, Marcial Escudero
# IL-SH-155
6/12/2012
Phylogeny of the oaks of the Americas: Diversification of an ecologically important clade across the tropical-temperate divide. (2012-2015 NSF Grant, DEB 114648)
Photographer: Albrecht, William. Publisher: Albrecht, William.