mor_174684_quercus_vacciniifolia_kellogg.jpg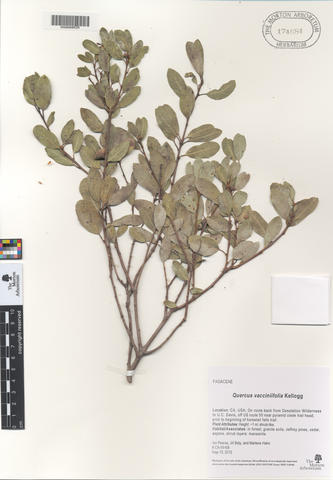 Description:
FAGACEAE
Quercus vacciniifolia Kellogg
Location: CA, USA; On route back from Desolation Wilderness to U.C. Davis, off US route 50 near pyramid creek trail head; prior to beginning of horsetail falls trail.
Plant Attributes: Height: ~1 m; shrub-like.
Habitat/Associates: in forest; granite soils; Jeffrey pines, cedar, aspens, shrub layers: mansanita
Ian Pearse, Jill Baty, and Marlene Hahn
# CA-MH68
May 13, 2012
Phylogeny of the oaks of the Americas: Diversification of an ecologically important
clade across the tropical-temperate divide. (2012-2015 NSF Grant, DEB 114648)
Photographer: Albrecht, William. Publisher: Albrecht, William.