0063483mor.jpg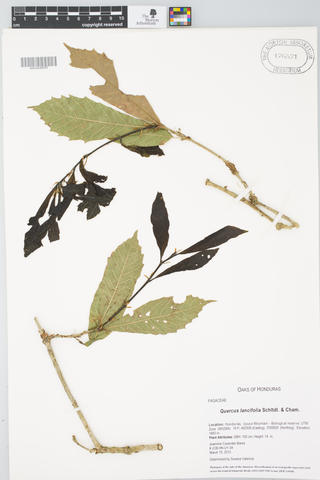 Description:
Oaks of Honduras
FAGACEAE
Quercus lancifolia Schltdl. & Cham.
Location: Honduras, Uyuca Mountain - Biological reserve; UTM Zone (WGS84): 16 P, 492308 (Easting), 1550829 (Northing). Elevation: 1883 m.
Plant Attributes: DBH: 100 cm; Height: 14 m.
Jeannine Cavender-Bares
# JCB-HN-UY-34
March 15, 2012
Determined by Susana Valencia
Phylogeny of the oaks of the Americas: Diversification of an ecologically important clade across the tropical-temperate divide. (2012-2015 NSF Grant, DEB 114648)
Photographer: Albrecht, William. Publisher: Albrecht, William.