mor_175311_quercus_macrocarpa.jpg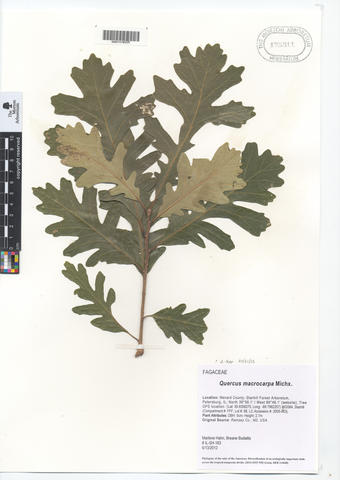 Description:
FAGACEAE
Quercus macrocarpa Michx.
Location: Menard County; Starhill Forest Arboretum, Petersburg, IL; North 39°56.1' / West 89°48.1' (website); Tree GPS location: (Lat: 39.9358275, Long: -89.7982257) WGS84; Starhill (Compartment #: FFF, Lot #: 68, LC Accession #: 2005-063).
Plant Attributes: DBH: 5cm; Height: 2.7m
Original Source: Ramsey Co.; ND, USA.
Marlene Hahn, Breane Budaitis
# IL-SH-183
6/13/2012
Phylogeny of the oaks of the Americas: Diversification of an ecologically important clade across the tropical-temperate divide. (2012-2015 NSF Grant, DEB 114648)
Photographer: Albrecht, William. Publisher: Albrecht, William.