mor_175167_quercus_laurifolia.jpg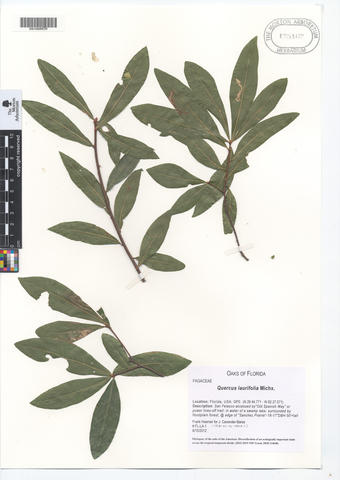 Description:
FAGACEAE
Quercus laurifolia Michx.
Location: Florida, USA; GPS: (N 29 44.771 - W 82 27.571).
Description: San Felasco-accessed by"Old Spanish Way" or power lines-off trail- in water of a swamp lake- surrounded by floodplain forest, @ edge of "Sanchez Prairie"-16-17"DBH-50'+tall
Frank Hoerner for J. Cavender-Bares
# JCB-US-FL-SF-LA-1 (FL-LA-1)
8/15/2012
Phylogeny of the oaks of the Americas: Diversification of an ecologically important clade across the tropical-temperate divide. (2012-2015 NSF Grant, DEB 114648)
Photographer: Albrecht, William. Publisher: Albrecht, William.